For over 40 years, the engineering experts at MIPR Corp have helped customers in critical, high-impact environments design, manufacture and deliver conveyor belts. Recently, MIPR Corp helped one lumber company protect their production line while making a powerful leap in production volume.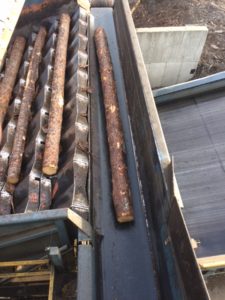 THE GOAL
A sawmill of international lumber, needed to make a big jump in volume without breaking the bank upgrading their production line. As their load scaled up from 3,000 to 7,000 logs per day, they needed a smart and cost-effective solution, fast.
THE CHALLENGE
This sawmill operates a whole-tree, bark-on, lumber saw mill. It is a powerful, high abrasion operation running six days a week.  A break in a conveyor belt that requires a changeout brings the line to a halt for 24 hours—costing the mill time and money.
THE SOLUTION
MIPR Corp designers and engineers have confronted challenges just like this for over 40 years. MIPR Corp installed a much heavier duty conveyor belt to prevent future breakdowns.
Belting that Won't Break Under Pressure
As speed and volume picked up in the sawmill, conveyor belts weren't keeping up. Worn belts catch and break, damaging products, stopping production and lowering profits. MIPR Corp engineers recommended a better belt covering for their type of business—one with the top-rated cover for strength and resistance. This simple step cut the number of belt-related production delays in half, ensuring that higher production load would mean higher profits for the company.
What is holding your business back? For a FREE evaluation of the critical components of your production line, from conveyor belts to bellows, call the experienced engineers at MIPR Corp. We solve problems, save you money and help you succeed.