We've told you about the different ways MIPR Corp's environmentally friendly and cost-effective used conveyor belting can be used once its time on the production line is done. But there's one that means more to us than all the rest—and it's very close to home.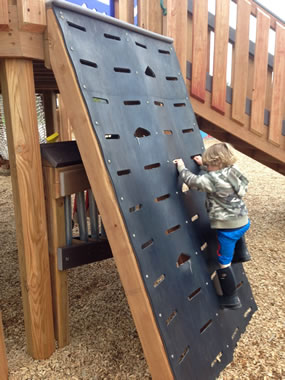 Like many of you, the hardworking team at MIPR Corp spent this morning sending our children off for another year at school. It's exciting, and emotional, and we can't wait to get home and hear about their first day in their new classrooms. For our own Whit Lee, however, it's even more so. His two young children attend a school with a playground filled with bridges and climbing walls built out of MIPR Corp conveyor belt.
"Even before they were old enough for school, my son and daughter loved to go play at the local elementary school playground," Whit explains. They weren't alone—the playground is a popular destination for many children in the area. A group of neighborhood parents had recently formed a playground committee to oversee a much-needed renovation of this much-loved space. The budget was tight, child safety standards are high and resources and materials were at a premium.
"I ship MIPR Corp new & used belting across America every single day to do all sorts of things," Whit says. "To protect trails and roads from erosion, to clean up railroad cargo spills, to contain cattle, and to protect drivers and riders at high-speed racetracks. It occurred to the committee—and it occurred to me—that if our tough rubber construction could stand up to big rigs, steers and floods, it could probably keep up with these kids."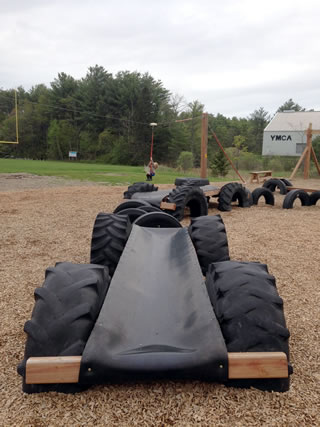 Whit generously donated MIPR Corp new & used conveyor belting to the playground renovation. MIPR used belting is age-cured, durable and environmentally friendly. The kids love it, and their parents and teachers love the lessons it teaches them about re-using and recycling. After another gorgeous Maine summer, Whit's children are headed back to school—and back to chasing their friends around a playground made possible by MIPR Corp.
MIPR Corp used conveyor belts can continue to protect what matters to you long after they've come off the production line. Our belting engineers know which kinds of used conveyor belts work best for your application and we can price, source and deliver that belting in record time. To learn more about how a used conveyor belt can carry your business forward, give us a call today