MIPR Corp will solve your high temperature conveyor belting problem.
MIPR Corp uses Viton® and Nomex® plys under Insulglass covers which handle molten glass. We are excellent with extruders and annealing. Try us for U.V. coating and drying situations—you will find knowledgeable staff with 30 years experience in an ever-changing field.
MIPR Corp uses Kevlar®, Nomex®, glass, and Teflon® for heat transfer belts and laminating operations.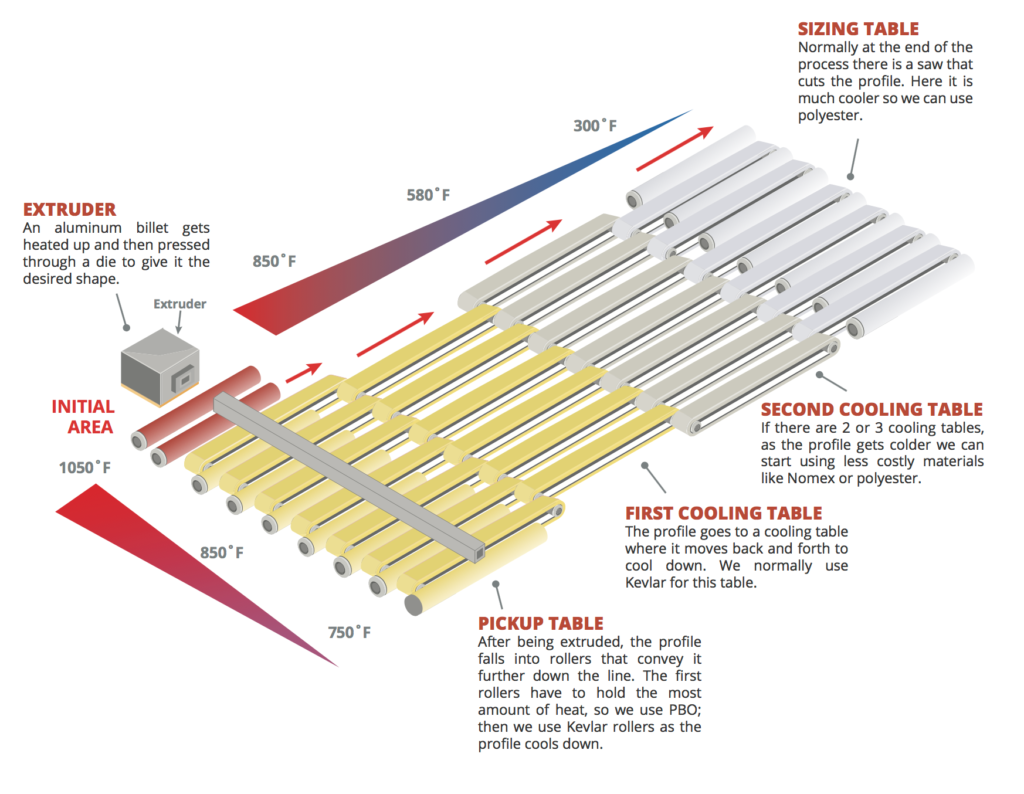 TFE-GLASS & SRC-GLASS BELTS
MIPR Corp belts are available with a variety of mechanical or endless splices.  Some products are available up to 181″ wide.  Applications include:
| | |
| --- | --- |
| | |
| | Fusing and laminating plastic films |
| Curing and drying screen printing inks | |
Premium Grade – In applications where fabric weave impression is undesirable, or where sticky and gummy materials are being conveyed, premium grade TFE-Glass Fabric provides optimum results.
Standard Grade – Most belts are constructed of standard grade TFE-Glass Fabric, due to its combination of high performance and moderate price.
Mechanical Grade & Economy Grade – Preferred in situations where economy is more important than maximum resistance to chemicals and solvents.
Crease & Tear Resistant – Preferred in high-speed applications where high flexibility is required.
SRC-Glass – Preferred when high flexibility and a high slip coefficient are required.
Designed for a wide range of applications, TFE-Glass Fabric is available in four grades to match specific performance requirements.  TFE-Glass exhibits the following high-performance characteristics:
Non-stick surface
Temperature resistance from -100°F – +500°F (-73°C – +260°C)
Chemically inert
High tensile strength
Premium-Grade TFE-Glass Fabric – Featuring an extra heavy coating of PTFE, Premium-Grade Fabric delivers a super-smooth surface perfect for advanced applications, including:
Release sheets for cooking and baking applications
Laminate separator sheets
Specialized heat sealing
Demanding, non-stick applications
Standard-Grade TFE-Glass Fabric – With a smooth surface and superb non-stick properties, Standard-Grade Fabric serves the widest range of applications, including:
Release sheets on heat-sealing machines and laminate presses
Non-stick surfaces for paints, adhesives and food products
Gaskets, seals and bearings for chemicals, oils and gases
Thermal insulation for high-temperature and chemical-resistant applications
Covers for hot plates platens, chutes, hoppers, troughs and rolls
Mechanical-Grad TFE-Glass Fabric – Designed to deliver resistance to high temperatures and chemicals, Mechanical-Grade Fabric utilizes a medium coating of PTFE.  Typical applications include chemical-resistant laboratory aprons and protective curtains, such as:
Bottle washers and paint spraying curtains
Food packaging
Acid protection
Economy-Grade TFE-Glass Fabric – Providing a light coat of PTFE, Economy-Grade Fabrics are designed for large volume applications which require cost-efficiency, yet still need high performance.  Typical uses include:
Leaders for processing paper plastics, metallic foils and cloth
Separator sheets for processing uncured rubber
The manufacture of abrasive wheels
Crease & Tear Resistant TFE-Glass Fabric – Provides an unusually flexible material for use in applications where high tear-strength and good flex-life are demanded.
Fabric Thickness – For most conveying applications, 0.010″ – 0.014″ belts are preferred.  Lighter and thinner (0.003″ – 0.006″) belts are widely employed in heat sealing applications requiring superior flexibility and heat transfer properties, particularly in 2-ply applications.  Heavier and thicker (0.015″ – 0.042″) belts are used in applications requiring high strength and load carrying capabilities.
Splice Information – MIPR Corp belting can be ordered with a variety of splices.  Metallic, non-metallic, endless and open splices are all available depending on your requirements.  MIPR Corp can help you determine which splice will suit your application best.
Metallic Splices – Durable & flexible.  Belts utilizing these splices can be installed without taking machinery apart. A cover flap can be added to a mechanical splice to reduce mark-off and heat transfer to your material.  Available in alligator and clipper splice.
Non-Metallic Spices
Fabric notched Splice:  Highly flexible and easy to install.  Ideal when metal lacing can not be used.
Smartloop Splice:  Durable Kevlar®  loops are sewn & sealed to mesh belt – airflow at splice area is less restricted
Peek Splice:  High temperature, plastic spiral lacing is easy to install and allows for airflow throughout the splice area
Endless Splices
Butt Splice:  Ends are butted together and reinforced with a durable backing strip providing a smooth working surface.
Overlap Splice:  Ends are cut straight or diagonally, overlapped and heat-sealed providing a very durable seam
Scarfed Splice:  Ends of belt are tapered first to minimize the thickness at the splice area, then overlapped and heat-sealed
Splices are heat-sealed at MIPR Corp facility or prepared for heat-sealing for installation at your facility
Heavy Weight Belting – MIPR Corp's heavy weight belting is typically used for the manufacture of carpet tiles, carpet mats, vinyl flooring, anti-fatigue mats, rubber extrusions and transporting of heavy weight materials through heated oven chambers.
Operating Recommendations
Maximum continuous temperature: 500°F
Maximum intermittent temperature: 600°F
Minimum drive pulley diameter: 8″
Minimum idler pulley diameter: 4″
Porous Belting – PTFE Coated Porous belting materials are used in conveying applications where maximum airflow and strength are critical to drying, curing and/or bonding inks, pigments and powders to fabrics and non-woven materials.
Operating Recommendations
Minimum drive pulley diameter: 6″
Minimum idler pulley diameter: 3″