MIPR Corp has sourced, designed, manufactured, and shipped filter and dewatering belts since 1980, so we know our filter belt facts.
What Do Filter Conveyor Belts Do?
Filter belts—also called filtration belts—are specially designed to separate or strain out different types of particulates, usually a solid from a liquid or slurry. Filter Belts are very popular in the food industry, whether you are a bakery or a mass production food plant. Other uses of Filter Belts are; sweeping away metallic shavings from machined parts, removing solids from wastewater, and straining invasive species from lakes. There is a filter conveyor belt that can do it for you—automatically. (Call us up and test us with any filtering task—we will ship a filter belt sample capable of catching it to you on the same day.)
Contact Us Today. Guaranteed Same Day Shipping
How Do Filter Belts Run?
At MIPR, we find most filter belts run best horizontally or some run at an angle. Our engineers can advise you on the best installation for your production line or facility at purchase. We may also suggest skirting your belt to funnel liquids and prevent spillover.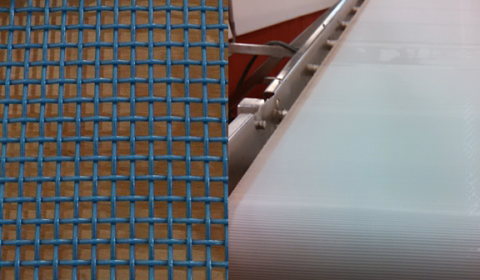 What Are Filter Belts Made Of?
Because filter belts are precisely and rigorously engineered for the task at hand, they run the gamut from polyester to polypropylene to stainless steel. Filtration belts can also be coated with materials like Teflon to improve temperature tolerance or performance. They even come in a range of colors, too.
What Sizes And Strengths Are Filter Belts?
We supply belts ranging in drainage hole size from 2-4 microns (able to catch particulates invisible to the naked eye) to 2,000 microns (able to stop debris before it is sucked into power station coldwater intakes). MIPR designs and produces custom filter belts as well. Our engineers can evaluate your needs and recommend the best drainage pattern and groove type for your particular belt free of charge.
Which Industries Use Filter Belts?
You will find filtration belts on production lines across all industries. In our home state of Maine, where they are manufactured, they are essential tools in pulp and paper production. Nationally, we have supplied filtration belts to mining operations, power plants, wastewater treatment facilities, construction sites, and many more.
Are Filter Belts Used In Food Production?
All the time! MIPR customers use our food grade filter belts to separate curds and whey in cheese factories or to remove excess and crumbs during flow-through. Metal mesh belts are a type of filtration belt you will typically find in vegetable and juice production. 
We regularly field calls from all across the country to repair, customize, ship, or install filter conveyor belts. Pick your favorite, and we will send you a physical sample today!
MIPR should be your first stop for filtration belts. Our filter belting experts are always standing by, ready to answer your conveyor belt questions and set up smart conveyor belt solutions—and we always offer a same-day sample guarantee.