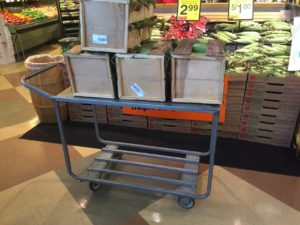 Conveyor belts and casters are essential to keeping today's supermarkets and grocery store chains running smoothly. Our supermarket supply customers rely on MIPR Corp's conveyor belt expertise for sourcing, service, and installation—and we're also the clear choice for casters.
Without the right casters, bakery and oven racks jam and grocery carts grind to halt. MIPR Corp supermarket supply engineers know how to keep your market on track. With over 30 years of experience, we can identify the exact right caster for any job or any application right away. With six national distribution centers, we can provide same- or next-day service on our supermarket casters. And we stand behind every caster we sell with impeccable repair and customer services.
MIPR Corp supermarket supply specialists can connect you with the very best casters for:
grocery carts
U-boat carts
oven racks
produce stem casters for produce carts
chicken rotisserie casters
refrigerator casters
ice cart casters and
meat room casters
MIPR Corp specialize in stainless steel oven rack casters that resist rust and frozen bearings in even the most demanding, high use environments. Our oven rack casters need much less maintenance than typical casters and can give your oven and bakery racks a service life up to four times longer.
MIPR Corp is a supermarket's one-stop supply shop—we also stock, service and supply the parts, axles, bearings or wheel replacements you rely on every day.
MIPR Corp is the perfect supermarket maintenance supplier for huge national chains and for small boutique markets. Cut down on maintenance costs. Avoid downtime. Keep your employees productive and your customers profitable. When you need supermarket casters, call the company that always knows what you're talking about—and always knows exactly how to help. Contact MIPR Corp today for your next supermarket maintenance needs!